Artificial Nature is a project that comprises a series of sculptures developed is an ongoing project that comprises a series of sculptures developed in Tyvek paper (100% recyclable material) and resin.

Today, Nature is a central theme in the thinking and strategies of power in capitalism, and new forms of resistance appear in which human and non-human beings are involved with their own voices. Nature is no longer just a good to preserve but the opportunity for new ways of relating. Art has a leading role in this epistemological turn because of the capacity to generate sensible correlates and to widen our limits in the ability to feel and love.

As long as we continue to see nature as that other place in the world that is outside of cities and ourselves, we can not understand what is happening with the devastation of our natural forests, the floods that the soils of our harvests can no longer absorb, genetic mutations, not only in animals and plants but also in man and other issues.

By assuming ourselves as an integral part - indissoluble - of what we used to call Nature and understand that the Anthropocene wants to include all the men and women of this planet - whether or not directly responsible-. We also need to understand that the causes of climate changes and modifications of the Earth and the atmosphere respond to specific economic interests and not for decisions of all humanity as a whole. Only then, we will be able to reason our present and what we would like for the future of humankind on the planet. [It is an artist who proposes for the first time to register the atmosphere in Unesco as a world heritage, in the framework of Documenta 13].

In that sense, children are the heirs of these, our actions. It is they who should be warned of the ability of man to alter their habitat, for their greatest economic benefit or just the opposite: for the common good. Are children aware of the ethics of care criteria? Do children know the meaning of Good Living (Sumak Kawsay in Quechua) as another way of relating to the planet?

We need rarer looks - says Chus Martinez - forget the edges of the human and not human. And art has a decisive role in this awareness, as never before.

As an artist, I feel an opportunity to be able to raise these urgent issues as I notice the interpellative capacity of Art from another place. These hybrid fossils, humans, animals, vegetables or indefinitely ambiguous can account, from the attraction, on these difficult issues to incorporate as their own.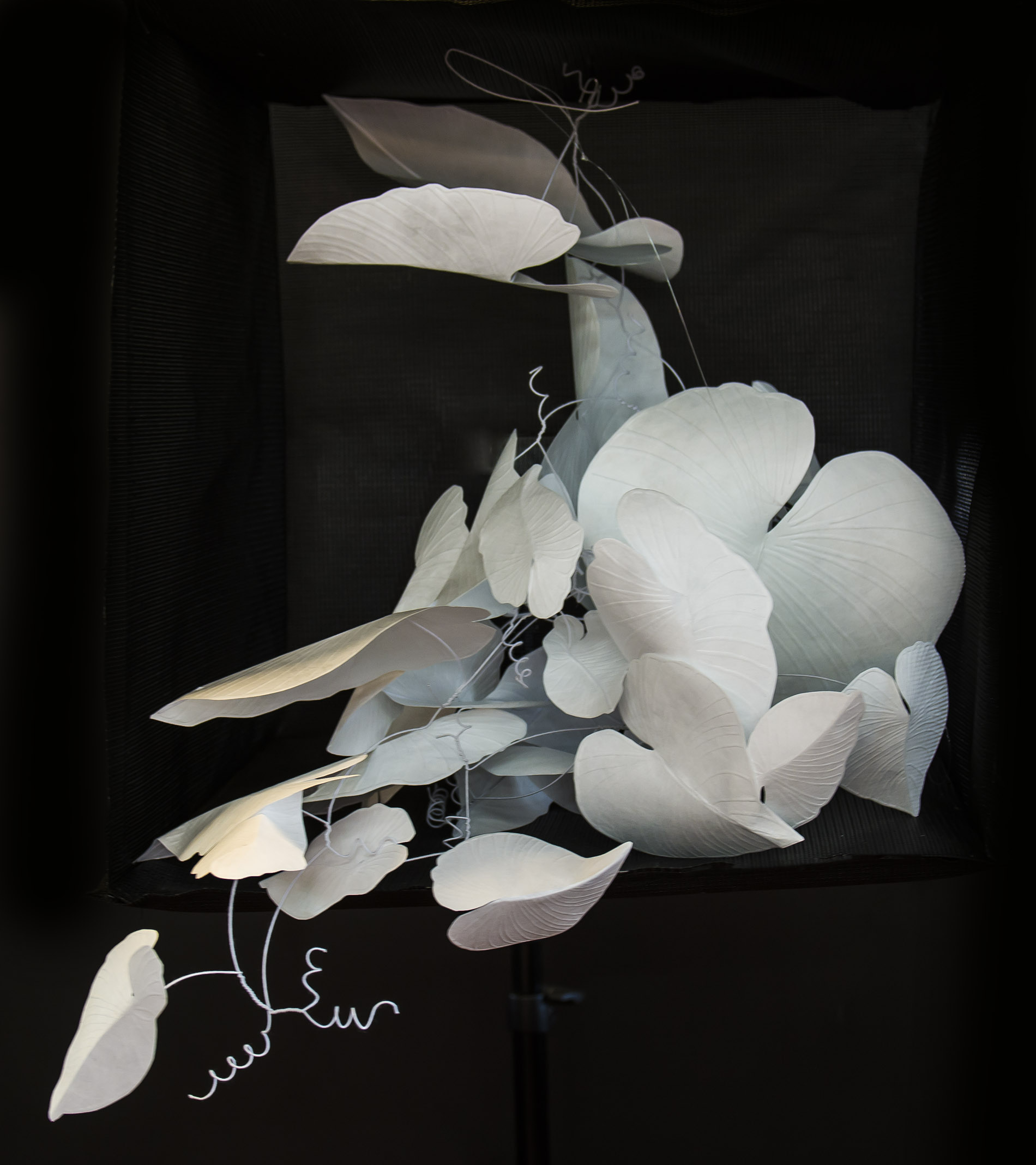 Artificial Nature, 2016-2018
Sculptures developed in Tyvek paper (100% recyclable material) and resin.